New partnership offers tools for success with aquatic therapy training and hands-on experience
Posted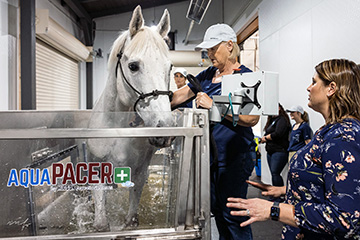 Hudson Aquatic Systems has partnered with Unbridled Equine to offer a uniquely customized educational, training and consulting experience for those who are interested in purchasing an AquaPacer, and those who already have an AquaPacer installed and want to learn how to utilize the treadmill safely and effectively in their barn or equine facility.
Hudson designs and manufactures the AquaPacer and AquaPacer Plus underwater treadmill systems for the advanced development and improvement of equines of all disciplines and activity levels by offering low-impact, high-resistance, therapy or workouts for faster recovery and rehabilitation from injury, optimal conditioning, and overall fitness. The AquaPacer provides the ability to condition and rehab horses in a fully customizable treatment environment utilizing warm or cold saltwater, variable water depths and treadmill speeds.
"Partnering with Unbridled Equine allows us to provide current and future customers with education and resources to ensure the AquaPacer is being used safely and efficiently to maximize client outcomes while establishing and growing their business," said George Hunter, president. "The AquaPacer serves as an effective tool for rehab and conditioning but can be further optimized with training and educational programs designed to set them up for success. Unbridled Equine creates individualized training plans to align with the facility's goals so it is uniquely specific to their needs."
How to Benefit from This Partnership:
AquaPacer Onsite Training
• Virtual consultation prior to installation to offer guidance on the administrative tasks that need completed in preparation for use.
• Onsite training* completed on safe and appropriate use of the equipment, protocols for acclimation to the unit, treatment guidelines and preparedness for unexpected and unique experiences that can occur when using the underwater treadmill.
• Sixty days of continued support once onsite training has been completed.
*Onsite training is also available for existing customers
Business Consulting: Services available to assist with business startup tasks including marketing and branding, developing legal and liability forms, and efficiency and productivity related to staffing.
Free Educational Webinars: Free webinars six times per year with topics relating to AquaPacer safety, treatment protocols and success stories, and the benefits of aquatic therapy and conditioning. All webinars are discussion style and designed to encourage community and sharing of personal experiences.
Pinnacle Equine in Fayetteville, Arkansas, recently purchased and installed an AquaPacer Plus underwater treadmill system and completed the onsite training program with Unbridled Equine.
"The work really began seven months prior to the AquaPacer being installed, when we met virtually once or twice each month to discuss business goals as they transitioned their barn into a rehab facility" said Katie Hawkins, owner of Unbridled Equine. "We assisted with staffing needs, marketing plans, equipment uses, schedules, and customized forms so their business would be set up and functional when the AquaPacer was delivered. The training was a combination of instruction from the Unbridled Equine AquaPacer Training Manual, demonstrations from the Unbridled team on how to introduce horses to the AquaPacer patiently and safely, and how to utilize and customize the elements of the water treadmill to different horses' needs. The training also included hands-on time for Pinnacle employees to practice and learn under our guidance."
Lauri Mason, owner of Pinnacle Equine, provided feedback on the training experience: "It was a total game changer! The confidence we have in the machine is night and day in comparison to where we would have been without Unbridled Equine."
Hudson is dedicated not only to providing the best underwater treadmill on the market, but also to providing tools and resources that ensure success. "The experience and knowledge of horses and equine rehabilitation that comes with Unbridled Equine makes this partnership valuable to all Hudson customers past, present and future," said Hunter.
To learn more information about the partnership, as well as the next webinar topic, date and how to register, click HERE. Past webinars are also available to view for free in the webinar Gallery.
Article published in the Horseman News, July 2023 issue, page 42-44.